What does Myoton measure?
State of tone or tension
A – Natural Oscillation Frequency [Hz], characterizing Tone or Tension
Biomechanical properties
B – Logarithmic Decrement of natural oscillation, characterizing Elasticity
C – Dynamic Stiffness [N/m]
Viscoelastic properties
D – Mechanical Stress Relaxation Time [ms]
E – Ratio of deformation and Relaxation time, characterising Creep (Deborah number)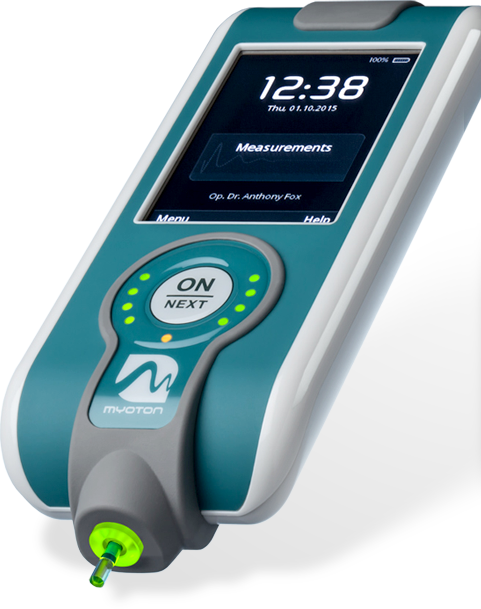 MyotonPRO enables us to detect even minor changes in muscle stiffness (R.Marvulli, G.Ianieri et al. 2016). This provides with invaluable information necessary to determine
MyotonPRO is a unique, quick and easy to use research tool. In my clinical practice it has proven remarkably cost-effective and efficient. The role of that instrument is difficult to underestimate
I foresee Myoton technology as an important diagnostic solution in the wide range of clinical applications, in sports as well as in space, where people live and work under extreme conditions
MyotonPRO is probably the best known research tool for measuring muscle tone.
The MyotonPRO is a practical instrument which accurately quantifies myofascial tone, dynamic stiffness and other bio-mechanical and visco-elastic parameters.
Our studies on Parkinson's patients indicated high sensitivity of myometry to the mechanical properties of muscle changes related to an occurrence of parkinsonian rigidity.